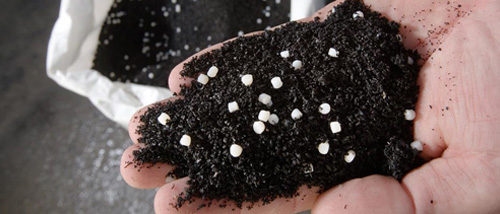 Pavements designed and constructed for heavy duty traffic and extreme weather conditions require specially designed engineered Bitumen Grades. Polymer modified bitumen (PMB) is one of the specially designed and engineered bitumen grades that is used in making pavement, roads for heavy duty traffic and home roofing solutions to withstand extreme weather conditions. PMB is a normal bitumen with added polymer in high shear mixer, which gives bitumen extra strength, high cohesiveness and resistance to fatigue, stripping and deformations, making it a favorable material for infrastructure.
In fact, PMB quality is:
    Greater Rigidity
    Better resistance to permanent deformation
    Higher Resistance to spreading cracks
    Greater water resistance
    Much higher durability
Process for preparing a PMB polymer modified bitumen binder composition in the substantial absence of cross-linking agents by heating a bitumen component in a stirred tank to a temperature from 185° C. to 221° C.; adding a block copolymer composition to the bitumen component while the bitumen component is being stirred to form a homogeneous mixture of the bitumen component and the block copolymer composition; and continuing to stir the homogeneous mixture while maintaining the temperature from 185° C. to 221° C. for a period of time from 4 hours to 30 hours thereby forming a cured polymer modified bitumen binder composition. Polymers which is used in this process are in different type and it choose base on the specific formula. Some of these polymers are: Polyethylene wax (PW); Styrene–Butadiene–Styrene copolymer (SBS); crumb rubber (CR) and EVA.
BS group can produce with any standard requirements in the country of use, including EN 14023-2012 as well as ASTM D5976-00 and the PG Grading System (e.g. PG 80-10, PG 74-10, PG 70-26, PG 70-28, etc.).